NEWS BLOG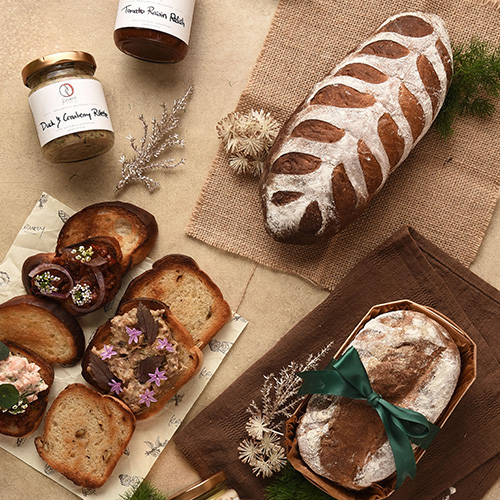 A PERFECT AND THOUGHTFUL CHRISTMAS GIFT
If you are looking for a thoughtful Christmas gift, Krusty by Kausmo is offering bundt cakes, festive breads, and spreads as part of its festive season offerings.
The trio of Bundt cakes ($22) starts with flavours of Preserved Lemon & Ricotta Bundt with a lemon glaze and seasonal berries; Dark Chocolate & Hazelnut Bundt with a smoky rosemary cocoa glaze; Matcha & Pistachio Bundt with a cream cheese and cranberry glaze.
The two festive breads available Gruyère Rustic Loaf & Bollilo Loaf, will be sold as sets with a choice of one of the three spreads – Smoked Salmon Rilette ($55 / $100 with caviar), Duck & Cranberry Rillette ($55) & Tomato Raisin Relish ($45).
These are ideal as gifts or for enjoying with friends and family! Keep your eyes peeled for Krusty's Christmas Drop which will be available for sale from 21st November onwards.