NEWS BLOG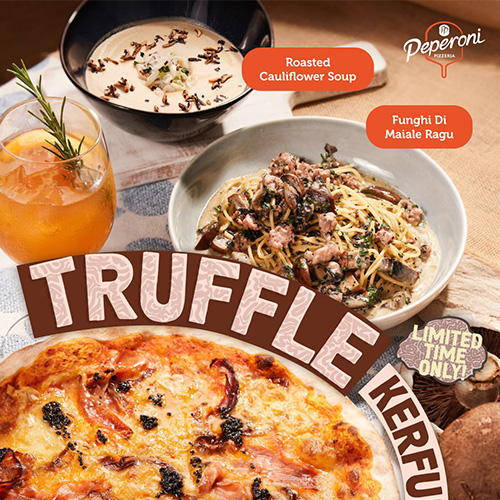 A TASTE OF TRUFFLE KERFUFFLE
Feeling truffalicious? Peperoni Pizzeria has got you covered with our new truffle dishes from 12th September to 12th November.
Kick off with our Roasted Cauliflower Soup ($12++), bursting with ingredients of Cauliflower Puree, Crab Meat Salad, Black Truffle Salad and Crispy Wild Rice Garnish.
Have a rich truffle treat when you devour our Camembert Pizza (M: $21++, L: $27++, XXL: $62++) that explodes with a symphony of flavours – Camembert Cheese, Smoked Farmer's Ham, Balsamic Onion, Black Truffle Salsa Dressing.
Last but not least, elegantly combined with Portobello, Pork Stuffing, Black Truffle Sauce, White Truffle Oil and Parmesan Cheese, our Funghi Di Maiale Ragu Pasta ($22++) is laden with an oh-so-decadent truffle experience!
Ready to awaken your palette? Treat your senses to an aromatic charm of black truffle at Peperoni Pizzeria with your loved ones!