NEWS BLOG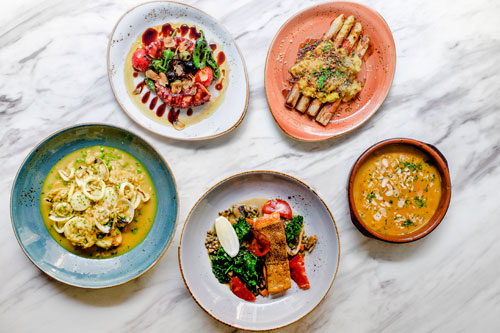 BUEN PROVECHO! NEW SIZZLING ADDITIONS TO LA TAPERIA'S SET LUNCH MENU
For an authentic taste of Spanish cuisine in the heart of town, look no further as the team at La Taperia have launched a new set lunch that will surely satiate any cravings for quality Spanish food, without having to break the bank.
Enjoy favourites such as grilled Spanish octopus leg, or their interpretation of classic tapas staples like Huevos estrellados and Asparagus Revuelto; the former with Iberico chorizo sausage, fried egg, and straw potato, the latter featuring creamy scrambled eggs atop seared asparagus wrapped in serrano ham. Forget overpriced small plates of food-here, their substantial mains should satisfy the voracious appetites of big eaters, or perhaps order different items and share them with friends for a proper Spanish feast.
The meat dishes on offering here are the standout-items such as their grilled U.S. pork rack, and flavourful marinated Australian lamb rump, without that dreaded gaminess. Seafood lovers will not be left out, as they also offer an Asturian seafood stew, featuring an ensemble of shrimps, clams, Hokkaido scallop and squid.
Finish your meal on a sweet note with their fine selection of desserts, which include seasonal berries pavlova, or fresh churros made in-house. Each set comes with your choice of coffee or tea; or you could pair your meal with selected wines at 25% off for a truly, Spanish affair.
For more information, visit www.lataperia.com.sg