NEWS BLOG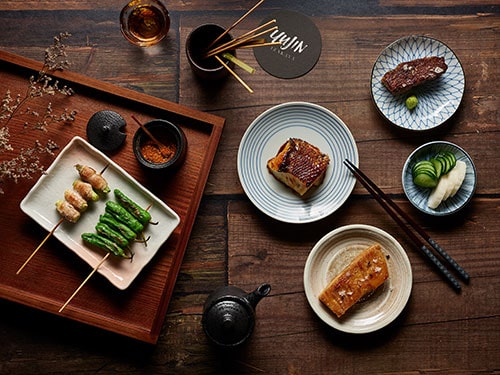 COMING FULL CIRCLE – THE BIRTH OF YUJIN IZAKAYA
True to the Group's promise – "for friends by friends", Yujin Izakaya is the Les Amis Group's first new concept to open this year on 15 March 2019. The izakaya is helmed by husband-and-wife team Freddie Lee and Purdey Poon who were part of the Les Amis opening team in 1994.
Tucked away at Zion Road, Yujin Izakaya is a fun and vibrant space for all to unwind. Spotting an industrial-chic look, the unassuming modern 50-seater izakaya features a bar that opens to a five-foot way and main street, beckoning with the glow of display fridges that showcase an enticing range of sake. Guests can expect to be greeted by a space humming with positive energy and take in the action through the black and copper open kitchen where chef-owner Freddie Lee fires up a curated repertoire of creative bites.
Highlights include a delightfully refreshing cold starter of Nama Yasai ($7), hot appetisers of Truffle Chawanmushi ($12) and Katsu Sando ($16), and succulent grilled meat items such as Gyutan (ox tongue, $12) and the handmade Tsukune meatball ($6) that's definitely not to be missed.
Call us at 6235 0429 to make your reservations today!