NEWS BLOG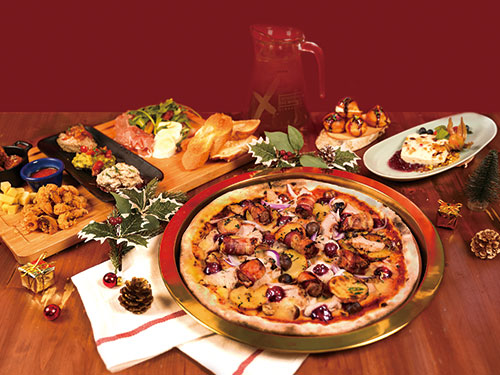 START THE FESTIVE FEASTING & MERRYMAKING WITH US
The enchanting smell of Christmas in the air again. It's time to put some wood in the fireplace and cosy up for the holidays. Peperoni Pizzeria introduces two festive specials from 1 December to 31 December 2019 – for 12 days of Christmas is never enough.
Be your very own Santa and treat yourself to an Xmas Feast Pizza (M – $22, L – $28, XXL, $62). A feast to behold, the pizza is topped with Roast Turkey, Pigs in Blankets, Roast Potatoes, Red Onions, Mozzarella, Chestnuts, Sage and Cranberry Sauce. Everything tastes better when it's on a pizza, sure to satisfy both adults and kids alike.
Finally, indulge in the sweet excitement of a white Christmas, end your meal on a sweet note with the Jack Frost-orrone ($10) – a Torrone Semifreddo of Almond Nougat Terrine topped with Fruits of the Forest and Cranberry Coulis.
For a jolly good time with friends or family, there is always Peperoni's. Make your reservations here.