NEWS BLOG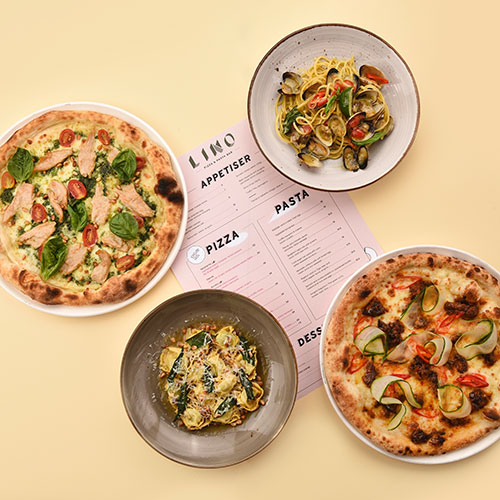 Start the New Month on a Tasty Fusion Note
Gather your friends to feast on LINO Pizza & Pasta Bar's new Asian-inspired dishes!
Chock full of flavours, the Vongole Linguine in Thai Green Curry ($24) has a slight spicy kick, delicate herbaceous notes and seafood aroma – all in one mouthful. For robust flavours, the Rendang Beef Oxtail Pizza ($24) is perfect – with shredded oxtail in robust rendang gravy, sliced chillies and pickled cucumber slices – giving the dish an extra oomph.
Be sure to leave some space for their first-ever dessert pizza, Coconut & Kaya Butter Pizza ($20) – an elevated take on kaya toast. Topped with dollops of kaya, butter, and toasted coconut, add on an Onsen Egg ($1.50) for a full "Kaya Toast Breakfast" experience.
A line-up of new desserts is now available too. For chocolate lovers, delight in the Truffon ($6.50). Made with 72% chocolate ganache and 58% mousse, this treat will bring you straight to chocolate heaven. For a lighter treat to end your meal, try out the new range of sponge cakes ($6) available in three flavours: Matcha Azuki, Taro or Yuzu.
Click here to view their menu. Don't forget to book a seat for your next gathering!