NEWS BLOG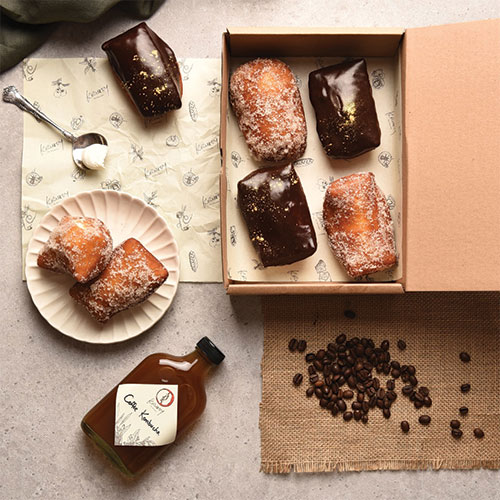 THE SWEETER THINGS IN LIFE
Showing appreciation to all coffee-loving dads out there, Krusty and Lucid Coffee have collaborated to bring an aromatic and exquisite Father's Day special to you! Place your pre-orders starting 5th June and 12th June on Krusty's Google form for collection/delivery on 10th, 11th June and 17th, 18th, 19th June respectively!
Enjoy a delightfully crafted bundle consisting of a Coffee Kombucha ($12/180ml bottle), made using Lucid's speciality blend 04 of deep, roasted caramelised goodness, paired with savoury sweet donut flavours ($25/4pc, 2 of each flavour) at only $35! The Spent Coffee & Smoked Peanut Butter Donut is filled with homemade smoked peanut butter and bits of dark chocolate and embellished with a clean coca glaze. Bourbon Banana Mascarpone Donut, slightly sweeter of the combo, is made with a fluffy bourbon banana mascarpone filling and a crisp cardamom-cinnamon-sugar coating.
Love them with these wonderful treats, delivered to their doorstep/self-picked up today!