NEWS BLOG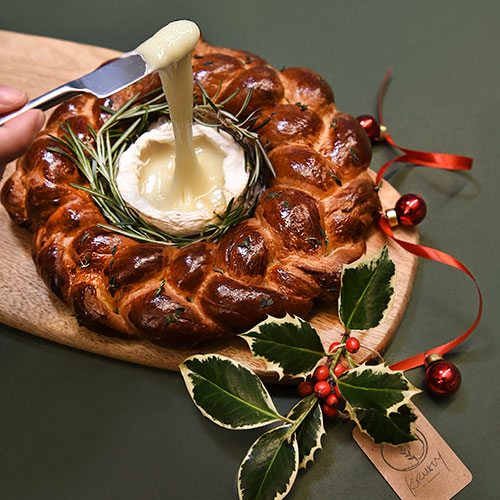 Thoughtful Gifts A Plenty This Christmas!
Spread love and joy this festive season by gifting your friends and family some delicious gourmet bakes and retail products. Share a fluffy herbed brioche wreath paired with XX cheese ($50/set) over a couple glasses of fine wine. Don't forget to pop the cheese in the oven before eating to get the cheese to a perfect gooey consistency for dipping!
For those looking for sweet treat options to bring to a party, fret not! Our Mini Loaf Cakes & Macaron bundle ($98/box – 6 mini loaves & 8 macarons) is the perfect solution. Enjoy a variety of mini cake loaf flavours including Orange Thyme, Lemon Coconut, Rosemary Almond, Brown Butter Rum Berry, Pumpkin Cranberry Streusel & Dark Chocolate Caramel. Not forgetting Smore macarons filled with Baileys Chocolate Mousse.
Healthier gift options are available as well with our Kombucha tasting bundle ($25/set of 3 – 170ml bottles). Flavours include Thai Red, Local Fig Leaf & Limeflower) for the bundle. On a more floral note, our Chrysanthemum Kombucha (750ml) will be available at $20.
To spice up this Christmas our Cranberry Habanero Sauce ($10 / 170ml bottle) is the perfect condiment to go with some simple fried wings or even as a glaze for a grilled pork belly.
Pre-orders will be released here on 28 November 2020. Do get your orders in quickly as limited quantities are available!