NEWS BLOG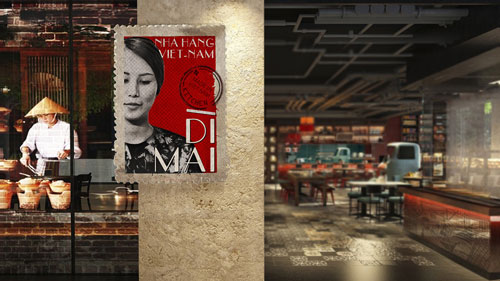 Vietnamese Cuisine Taken Up a Notch with Di Mai
Set in the heart of bustling Ho Chi Minh City, at the base of Ben Thanh Tower, Les Amis Group's latest concept, Di Mai (translated "Aunty Mai") offers diners a respite from the hectic streets of Vietnam, by transporting them into a whole new world, where vintage-nostalgia meets modernity.
From the iconic and refurbished Xe lam (commonly known as Tuk Tuks) cashier counter which is attached to a communal dining table, the crockery and sauces that peppers the shelves, to the large
open kitchen, Di Mai is a visual feast that will keep diners captivated throughout their meal. Crafted from traditional recipes prepared around Vietnam, Di Mai offers a well-curated menu that
blends Vietnamese Street Food with home-style cooking, which is bound to leave you leave you craving for more.
Di Mai has certainly found her place in the hearts and minds of Ho Chi Minh and their diners.