NEWS BLOG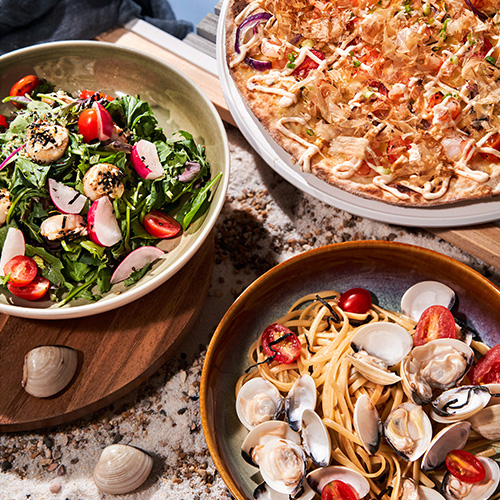 You'll Be Hooked
Are you a fan of seafood? Well, you're in for a "reel" treat! Our latest campaign is making waves from 20th March to 31st May 2023. We've got three "fin"-tastic seafood dishes that will leave you "hooked" on their flavour.
Our Prawn Bonito Pizza ($21 – L, $27 – XL, $62 – XXL) is served with juicy cherry tomatoes, savoury red onion, and zesty mayonnaise togarashi sauce. The pizza is topped with bonito flakes that add a unique umami taste to every bite.
Next, we have Vongole with Seaweed Butter ($27), a dish that will transport you straight to the seaside with every forkful. Venus clams are cooked to perfection, paired with tangy cherry tomatoes and sake sauce. Our seaweed butter adds a creamy indulgent finish that will leave you wanting more.
Do also try our Seared Scallop Mesclun Salad ($22) which highlights the delicate flavours of seared scallops. The crisp mesclun salad complements the dish with its refreshing texture, while the red radish and cherry tomatoes add a touch of sweetness. To elevate the flavours further, the salad is topped off with a tangy yuzu dressing and savory kakishoyu furikake.
Drop by Peperoni Pizzeria and taste the flavours of the sea for yourself!